'A sparkling and delicate musical combination providing a dazzling performance!'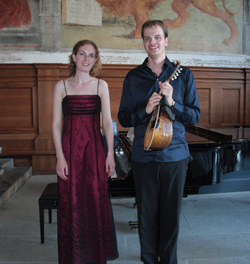 That is how the duo, consisting of Eva van den Dool-piano and Sebastiaan de Grebber-mandolin, can best be described.
Besides having their own careers they started playing as a duo in 2007. Since then they have given many concerts in the Netherlands, many countries in Europe and the United States.
This promising duo focuses on performing orginal compositions for mandolin and piano: Works by composers thoughout the different musical periods such as Scarlatti, Hummel, Beethoven, Calace, Monti and Chailly. The majority of their repertoire was written in the golden age of the mandolin: the Romantic period. Besides performing original compositions, the duo has allready inspired contemporary composers to write new music for this remarkable combination. All these elements provide the duo with plenty possibilities for a versatile programme.
More info on Eva van den Dool, click on the link to her website